Update:
I fixed some of the links which were broken, and added a couple of new patterns. Also I should note that while any of these may be useful to use as a starting point, most of the directions, especially from the mainstream pattern companies should be disregarded. Use quality materials and your favorite corset construction method or follow
a trusted online tutorial.
(Originally posted Nov 2011)
Right, let's get the corset patterns post out of the way. There are lots of sources for corset patterns, and the mainstream pattern companies may not be your best choice. Because they don't specialize in corsets, it seems they treat their corset patterns the same way they do all their patterns. The problem with this is that it means their corset patterns tend to run HUGE. So, if you're going to a pattern from one of the Big Four, go down a couple sizes first, and don't forget to make a mock-up first.
Laughing Moon 100: The Dore straight seam and the Silverado bust gore corsets
- The Laughing Moon 100 pattern is probably the most popular corset pattern. It was my first pattern, and still the one I have used most. It's appealing first of all because for one price you get two different corset patterns, plus chemise and drawers. These are both mid-bust Victorian corsets. The Dore is a good first corset, while I would recommend the Silverado only to someone who has made a few corsets. (I probably won't make it again because I found it to be a bit of a pain in the ass.) The pattern comes with full instructions, but you may (probably will) need to seek extra help to understand them fully. Also, there is no waistline marked on the pattern, which is annoying.
Laughing Moon also makes an
Underbust corset
pattern. It includes a women's underbust, man's corset, and ribbon corset. I have no experience with this pattern, although I kinda like the shape of the underbust.
Truly Victorian 110
- This is a very attractive standard all-purpose Victorian corset. I've been told it is a better and easier to follow pattern than the LM Dore, but I haven't made it myself. If I didn't already have a pattern that fits me great that I modded from the LM Dore, I would buy this one. I have had very good experiences with Truly Victorian patterns.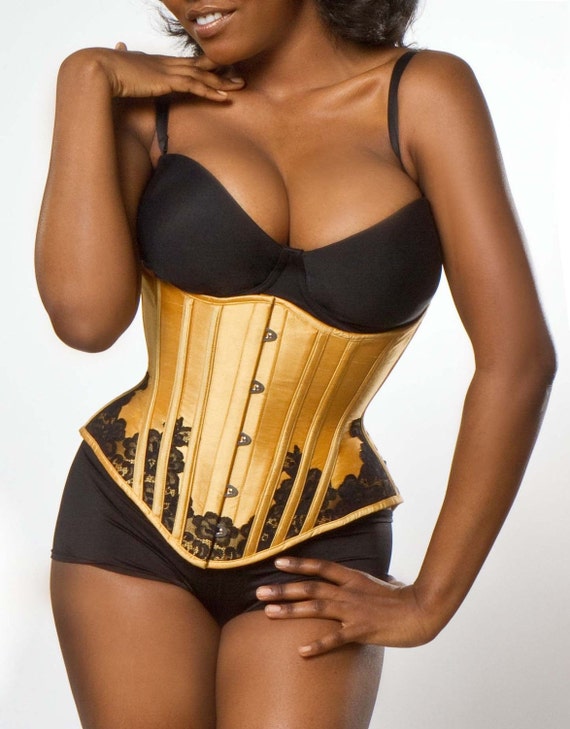 King and Company Celine Underbust
Truly Victorian 1903 Edwardian Corset
- Edwardian corsets are very different from Victorian corsets. They have a very straight front and very curved back and make you look "pigeon-breasted." It's not a style I really like, but some love it. This is a very new pattern, but if you want to try an Edwardian corset, it's probably a good bet.
King and Company Celine Underbust
- This is a small indie company and this is their only pattern so far, but it's been very popular since its introduction. I've used it for my only underbust. The pattern is very well drafted. There are no instructions included, as it assumes you know your preferred method. Also you have to add your own seam allowance as how much allowance you need depends on your method.
Simplicity 9769
- This corset has a nice shape and I've seen some nice corsets made from it. But it's known to run very large and to require quite a bit of modification to get sized correctly. I was going to use it for my first corset and decided to go with the Laughing Moon 100 instead. Also keep in mind since this is a Civil War corset it is a midbust and will not give you adequate boob coverage unless you modify it. (This is true of pretty much all historical corset patterns. They were underwear, worn with a chemise.)
Simplicity 2890
-I'm honestly not sure what kind of corset this is supposed to be. I guess it's Victorian? Mostly, it looks uncomfortable to me. (All I can say is that corset DOES NOT fit that model.) I suspect, based on what I know of their other patterns, that this MIGHT eventually yield a decent corset, but it would require a lot of messing with first. CORRECTION: I've looked around and I quite like some corsets made from this pattern. The technique is advanced and different, as it has you insert bust and hip gores by slashing through pattern pieces. Anyway, I may actually try this one day, as it's a style of corset I like.
Simplicity 5006
- This is really a pattern for a bustier as written. But so long as you use proper corset techniques, it can be a nice overbust corset. I might even try it.
Butterick 5662
Butterick 5662
- This is a modern corset, with optional straps and pockets. I really like the style of this one, and I'm going to mess with it to see if I want to use it for my next corset project. I like that it's an actual overbust that has good coverage and a nice shape to the top. This is a very new pattern, so I've never seen one made before.
Butterick 4254
- 18th Century stays and corsets. I THINK this is intended to be a pattern with 18th century style stays and 19th century style corset. If it's the stays you want, this is probably an ok pattern but nothing I've seen convinces me the corset pattern is worth anything. It just seems to be proportioned all wrong.
Vogue 2810
- This is a modern corset pattern, and I kinda like the shape. It's a nice option if you're looking for something for formal wear. Not sure how easy the pattern is to get it to fit right.
Butterick 5935
- This is an interesting modern take on a 18th century or earlier style of corset. I quite like the look, although it's not Victorian.
King and Company Josephine Waspie
- This company's second pattern is for a short, closed front waspie. To me it doesn't look very curvy, but they say it's beginner friendly, so you might check it out.
There are other sources of patterns of varying quality. Many are taken from historical sources such as patterns straight from period magazines, or made from actual corsets. These are usually pretty difficult to work with as they may lack instructions, only come in one size, or may use older sewing techniques. But they also can look really cool. I have yet to venture into these frightening waters. (Update: I am not so much afraid anymore, as much I don't have much info about how good these patterns are. But there are some neat ones out there.) Some sources are
Ageless Patterns
,
Past Patterns
,
Mantua Maker
,
Atelier Sylphe
and
Harlots and Angels
and
Ralph Pink Patterns.
Ok, and I think that's all I have to say about corset patterns. I've learned just from writing this. And I have at least 4 patterns I want to try RIGHT NOW. *sigh*